The Standard Issue Belt: A History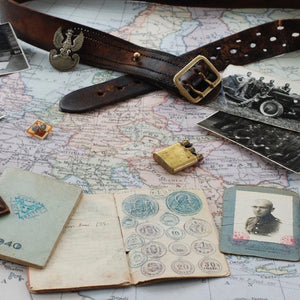 Around grade 7 I started wearing a pretty cool old leather belt that I had wrangled out of my father's belt collection. It was heavily worn to a dark brown, had extra holes punched in it and had lost almost all of its stitching. Even though it had seen better days it had character and some interesting features including a double pronged brass buckle with perfect patina, a simple button stud to hold down the end and a neat leather flap behind the buckle, to protect you from getting pinched.
In fact I wasn't the first to make off with the belt as my father had worn it in his younger years after wrangling it from his father. Yes a leather belt can theoretically last that long!
There is more to this belt than simply being a generational hand me down, it had in fact been issued to my Grandfather during WW2 as he fought for our freedoms.
I've tried to determine where the belt would have been issued, but so far I haven't been able to come up with anything definitive. My Grandfather was in the Polish Airforce when Germany invaded and he fought in a number of retreating allied armies across the continent until eventually taking one of the last boats out of France as the Germans took control. After number of stations in England he ended up working with Barrage balloons in Scotland, which is incidentally where he met and married a Scot, my Grandmother. So I suppose there are a number of countries that could have issued the belt, and many were using very similar designs. One thing's for sure, the belt could tell a few stories.
After quite of few years of my use and abuse the belt finally started to show the last signs of usable life. The leather was worn and starting to crack badly and I decided that it would be best to put it away and preserve what was left of it.
Fast forward quite a few years, I had been using leather accents on a number of the bags I was sewing and struck on the idea of putting new leather blank on my Grandfathers old buckle. I squashed that idea pretty quickly when I realised I didn't want to take the old belt apart, so instead I decided to try and make a modern version of the old belt an "homage" to it.
I stayed very true to the original belt in terms of width, stitching patterns, etc. Of course there were some variations since I wasn't able to find an exact replica of the belt buckle, but it certainly was a very close representation of it. Maybe one day I'll have a replica buckle cast….one can dream, but for now this is as close as it's going to get.
These belts are made one at time by hand. Hours of finishing work is put into each and every single belt. The leather is cut from the toughest part of a top grain cow hide. An intensive finishing process is then employed to ensure a smooth and rich looking edge, this is followed with a precise stitching operation to join the belt and replicate the pattern of my Grandfathers belt.
This belt also is one of the reasons for taking Wilboro from a fun side project for family and friends to a more serious operation. The reason being I've had so many people asking me to make them one, it's the main commissioned item I've been making of the last number of years.
Leave a comment
Comments will be approved before showing up.